Opening Hours
Monday-Saturday

9.00am - 7.00pm

Sunday

9.00am - 2.00pm

Contact No.

88377 52877, 98155 08331
Dr. Pankaj Jain
MBBS, MS (Orthopedics) from DMC&H, Ludhiana
---
In 2014, Jain Bone & Joint Hospital and Surgical Centre was started by Dr. Pankaj Jain as a specialty centre for Orthopedics & Trauma management with 15 beds. Dr. Pankaj Jain is MBBS, MS (Orthopedics) from DMC&H, Ludhiana and he is having 9 years of experience. Dr. Pankaj Jain is on panel of State Bank of India also. The purpose of inception of this hospital was to serve the needy people. In our hospital we use the latest techniques to provide treatment for joint replacement and trauma cases and we also provide treatment of sports injuries by arthroscopy. We are the only orthopedic hospital in our region.
The overwhelming flow of the patients to the hospital has proved that the doctors & staff have worked selflessly & have won the confidence of the people. The hospital is functioning with a selfless commitment that produces excellent results for its patients which has been well recognized by the society.
Specialties & Qualifications
Qualification:
MBBS, MS (Orthopedics)
Experience:
10+ Years
---
Dr. Savita Jain
MBBS,MD,PGDCD Skin / Hair Specialist in Ludhiana
---
Dr.Savita Jain Dr. Savita Jain (MBBS,MD,PGDCD) is a well-known skin/hair specialist in Ludhiana. Her immense knowledge and great depth of understanding of the subject have made her stand out among her peers and experts. Dr. Savita Jain practices clinical and cosmetic dermatology and treats skin conditions and hair diseases in men, women, and children. Dr. Savita Jain not only takes utmost care of you at the first consultation and each follows up, but she will remain with you as your personal Skin specialist, available to be contacted easily. Her simplicity, compassionate nature, and easy approachability have gained her thousands of patients.
She specialises in anti-aging and all types of treatments for different Skin problems, Pigmentation, Hair Loss Treatments etc. Dr. Savita Jain is the Best Skin Specialist, for her humble, kind, and down-to-earth personality. She is renowned for giving consistent, 100% satisfactory results to all her clients from across India. Dr. Savita Jain takes the doctor-patient relationship to the next level through her unique way of bonding as a doctor and a friend.
Specialties & Qualifications
Qualifications:
MBBS,MD,PGDCD
Experience:
7+ Years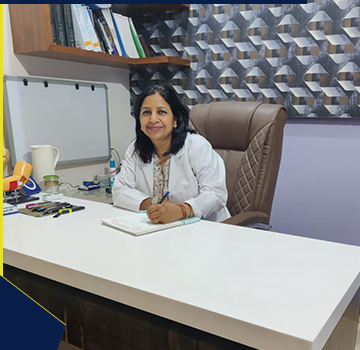 Opening Hours
Monday-Saturday

9.00am - 7.00pm

Sunday

9.00am - 2.00pm

Contact No.

98784 08331, 62843 59628
s